World's Greatest Show & Safari - Serengeti
Tour, Non-escorted tour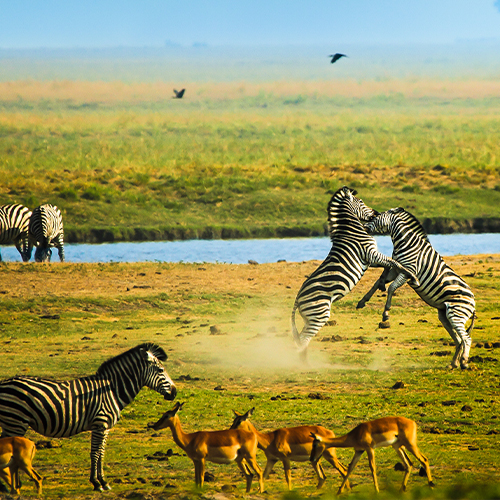 World's Greatest Show & Safari - Serengeti
This safari captures the very best of Kenya and Tanzania and the most likely route for observing the Great Migration of millions of wildebeest and zebra across the great plains of East Africa.
Explore Ngorongoro Crater, hailed as one of the Natural Wonders of the World, and home to both predator and prey.Discover the beauty of Amboseli with its famous large tusked elephants and views of snow-capped Mount Kilimanjaro.Experience the thrill of tracking Africa's Big Five and watching millions of wildebeest and zebras during their annual migration crossing the Mara River.Enjoy aerial game viewing as you fly between locations maximizing your safari time each step of the way.
1. HEMINGWAYS NAIROBI, Kenya, Nairobi
2. ELEWANA TORTILIS CAMP, Kenya, Amboseli National Park
3. ELEWANA LEWA SAFARI CAMP, Kenya, Lewa Wildlife Conservancy
4. ELEWANA ARUSHA COFFEE LODGE, Tanzania, Arusha
5. ELEWANA THE MANOR AT NGORONGORO, Tanzania, Ngorongoro Conservation Area
6. ELEWANA SERENGETI MIGRATION CAMP, Tanzania, Serengeti National Park
7. ELEWANA SERENGETI PIONEER CAMP, Tanzania, Serengeti National Park
National Parks and Preserves
Safari, Animals, and Wildlife
About African Travel Inc.
As the longest established luxury safari operator focused exclusively on the African continent, African Travel, Inc. is dedicated to creating and providing the ultimate African experience.  We are one of the most awarded companies - including awards for Travel + Leisure's #1 World's Best Safari Outfitter,  Departures Legend Award and AAA Best in Member Services - because we turn dreams into a reality. 
We know Africa and our team has lived and traveled extensively throughout the continent. Now more than ever we are here to answer questions about when and how to live the African dream. Because we specialize in bespoke safaris, we can navigate the best travel journey and we are accustomed to handling any changes. 
Five-star service is guaranteed every step of the way. With local offices in Africa and experts based across North America you'll be helped in real time, in every part of planning and travel. From our Concierge Care to our range of safari choices, we are the one-stop shop for air, accommodations, sightseeing and more.