Circle Australia
Tour, Escorted tour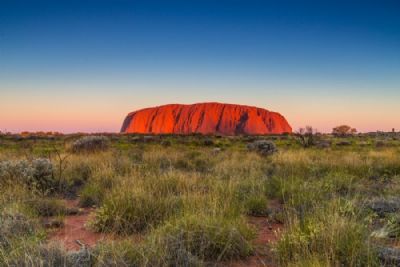 Circle Australia
On this all-encompassing journey around the Land of Oz you'll experience all the highlights of Australia, hitting Melbourne, Uluru, Cairns and the Great Barrier Reef, and Sydney - a full circle for a one-of-a kind Aussie adventure. Culture is what makes Melbourne unique; spend your time sampling restaurants, checking out galleries or experiencing a local sports game. Next you're off to Uluru Kata Tjuta National Park. Here you'll watch the sunset over Uluru, Australia's icon of the Outback, and listen to the "sounds of silence" while enjoying a traditional meal set under the stars. Cairns and the Great Barrier Reef are next on deck. A full day excursion to this expansive reef complex allows for snorkeling or diving for the water enthusiasts or just a relaxed day filled with fun in the sun. You'll wrap up your journey with a train ride through Kuranda, a hot air ballooning adventure and a few days in the famed city of Sydney. A perfect trip for a full sampling of Australia, Circle Australia has it all!
Your Itinerary Includes:
Roundtrip airport transfers
3 nights Melbourne
Understanding the Real Melbourne Tour
2 nights Uluru (Ayers Rock)
A Night at Field of Light
Kata Tjuta Sunrise tour
Uluru Sunset tour
4 nights Cairns
Reef Magic - Cruise and Fly
Half Day Daintree Rainforest tour
3 nights Sydney
Sydney Opera House backstage tour
Sydney City tour
Cruise Like a Local Luncheon Cruise
Meals: 2 breakfasts, 3 lunches, 1 dinner
Adventure and Active
Educational and Learning
Family Vacations
Romance and Honeymoons
Safari, Animals, and Wildlife
Sun and Sand
Customizing the travel experience, Swain Destinations is the leading U.S. provider of completely personalized exotic vacation experiences. Since 1987, Co-Founders Ian and Linda Swain, and their dedicated team of destination experts have offered American travelers the opportunity to design distinctive trips to intriguing international locales, including Australia, New Zealand, the South Pacific, Asia, India, and Africa. From adventure-packed trips to leisurely getaways, Swain Destinations curates itineraries based on each individual's travel preferences. Dynamic experiences range from a chef's table dining extravaganza on Hayman to a safari journey across the East African Plains.