Aussie Adventure
Tour, Escorted tour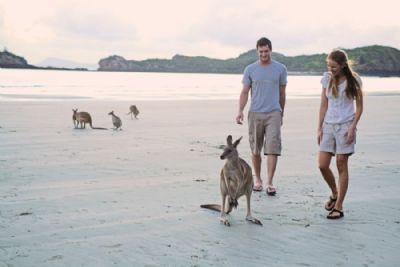 Aussie Adventure
Get ready to say G'Day with this captivating Aussie Adventure. Embark on an experience highlighting Australia's most famed regions and iconic land marks. Embrace native heritage and local wildlife as you trek through the Outback in search of your very own cultural awakening. Dive into nature's largest underwater eco-system as you step off the white sand island beaches and into the Great Barrier Reef. Wrap up your Down Under sojourn with a visit to Australia's premier city, Sydney, to explore the renowned Sydney Opera House and Sydney Harbour Bridge.
Your Itinerary Includes:
Roundtrip airport transfers
3 nights Melbourne
Phillip Island and Moonlit Sanctuary
Lanes and Arcades Walking tour
1 night Adelaide
Taste the Barossa tour
1 night Kangaroo Island
2 days touring Kangaroo Island
2 nights Adelaide
2 nights Uluru
Kata Tjuta Sunrise tour
Uluru Sunset tour
4 nights Port Douglas
Quicksilver Outer Reef Cruise
Walkabout Adventures - Ngana Julaymba Dungay
3 nights Sydney
Sydney classic bike tour
BridgeClimb Summit, Day Climb
Meals: 6 breakfasts, 6 lunches
Adventure and Active
Educational and Learning
Family Vacations
Safari, Animals, and Wildlife
Sun and Sand
Customizing the travel experience, Swain Destinations is the leading U.S. provider of completely personalized exotic vacation experiences. Since 1987, Co-Founders Ian and Linda Swain, and their dedicated team of destination experts have offered American travelers the opportunity to design distinctive trips to intriguing international locales, including Australia, New Zealand, the South Pacific, Asia, India, and Africa. From adventure-packed trips to leisurely getaways, Swain Destinations curates itineraries based on each individual's travel preferences. Dynamic experiences range from a chef's table dining extravaganza on Hayman to a safari journey across the East African Plains.